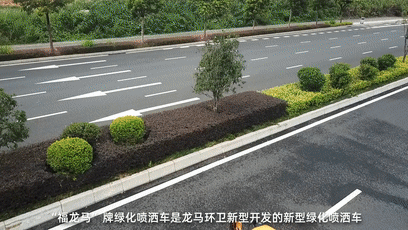 "FULONGMA" brand new green spraying vehicle is a multifunctional sanitation vehicle newly developed by Longma Sanitation. Provides a new type of equipment integrating sprinkling operation + aerial work for garden greening and urban road maintenance. The truck has the functions of watering, greening and watering, 360° rotating high-altitude lifting, greening pruning, and high-altitude maintenance work platform.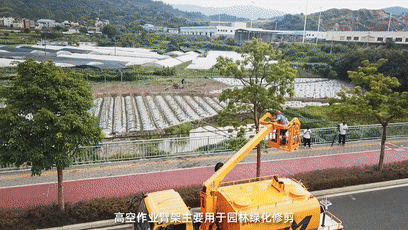 The high-altitude operation function consists of a slewing mechanism, a boom, and a hanging basket. The gondola is driven by the boom slewing mechanism to achieve 360° omnidirectional rotation.
The hanging basket can be raised to a maximum of 10 meters through the expansion and contraction of the three-section boom. The bottom of the vehicle has front and rear support legs to ensure the safety of operation. The hanging basket is equipped with a balance bar to ensure that the operator is always parallel to the ground when working and is equipped with a safety rope to ensure the safety of the operation.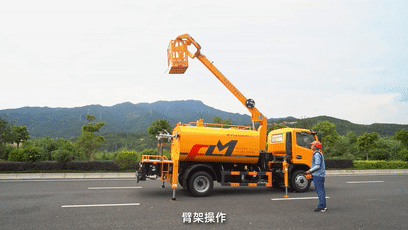 The operation of the wireless remote control can be used to operate the boom. The operating speed of the remote control can also be preset with the maximum current and the minimum current to control the movement speed of the boom within an appropriate range.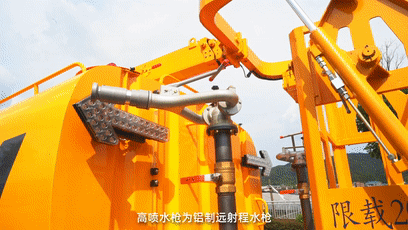 The high-range water spray gun is an aluminum long-range water gun, which is installed on the rear of the vehicle body. It is flexible to operate and has a large working angle range. It can be used to spray objects of various heights and can remove some sanitary dead spots that are not easy to clean. The high spray gun can be rotated 360° left and right, and the gun body can be operated up and down. Turn the adjusting sleeve on the front of the gun body forwards and backward to adjust the spray shape of the water gun (column or mist) and close the water gun. The high spray gun is controlled by a manual ball valve, which can be opened and closed arbitrarily during work, with a range of not less than 50 meters, and an auxiliary fire-fighting function.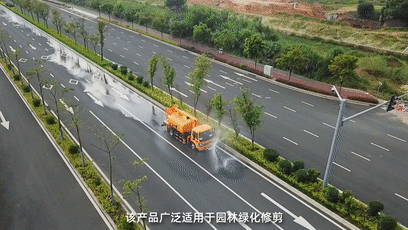 This product is widely used in cleaning operations of urban roads, highways, squares, ports and docks, and watering operations of green belt plants. The optional rear-bottom spray system can be used for spraying and dust reduction operations; the optional left and right flower watering devices can realize the green watering on the left and right sides of the road. The vehicle has multiple functions and multiple uses.