In 2022, FULONGMA actively responded to the national "double carbon" strategic goal and further promoted the carbon emission reduction work in sanitation operations. Xiamen Longhuan ushered in a batch of new energy sanitation operation machinery, officially entering the era of "new energy" sanitation! While further improving the efficiency of sanitation operations, it reduces waste gas emissions and noise pollution to achieve truly sustainable development.
01. New energy machinery: low-key environmental protection guards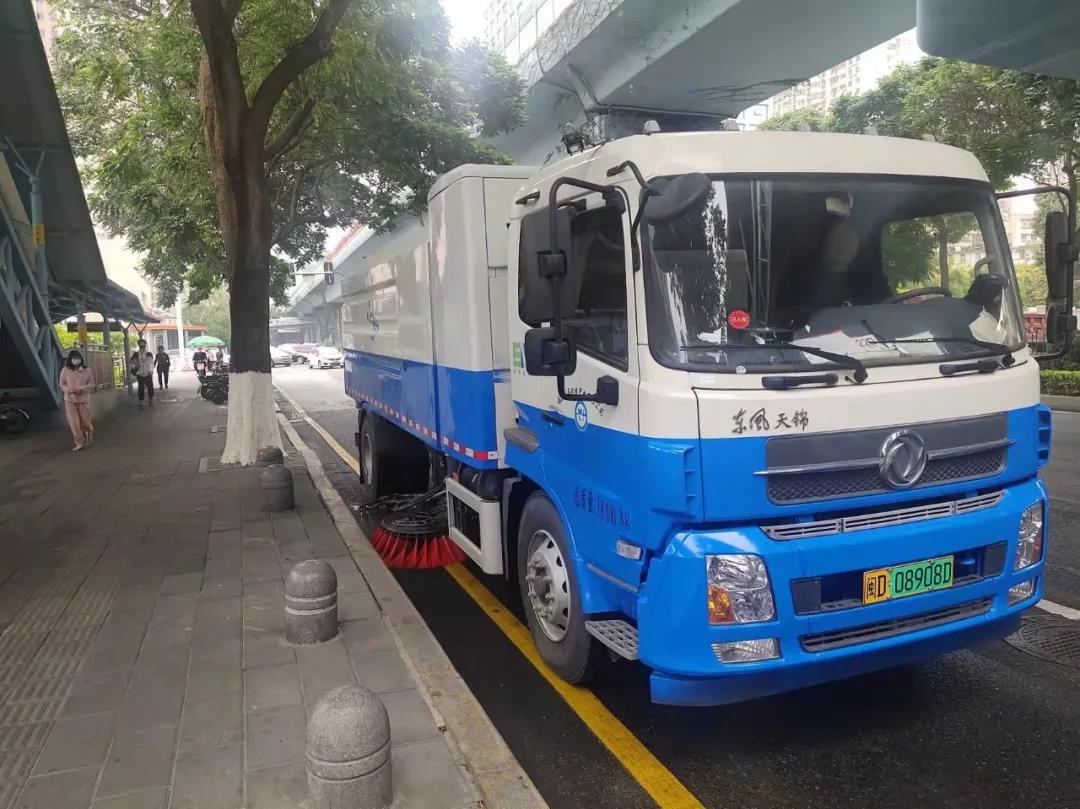 Different from the previous sanitation vehicles, this batch of cleaning vehicles, compression vehicles, and cleaning vehicles are all driven by electric motors, which not only reduces environmental noise pollution but also reduces the noise inside the vehicle, which is a good thing for the surrounding residents and drivers. In addition, the new energy machinery emits less waste gas, which can greatly reduce the pollution to the environment, and the sanitation operation is more environmentally friendly and hygienic.
02.FLMSD18: Coexistence of appearance and performance
The small and cute "Fulongma" brand SD18 pure electric road sweeper is different from traditional sanitation vehicles. SD18 is not only small in size and high in appearance but also has many functions such as road cleaning, auxiliary suction, high-pressure cleaning, sewage recycling, etc. Practical function, suitable for narrow roads, sidewalks, parks, residential areas, and other areas where traditional large-scale machinery is inconvenient to enter and has a wide range of applications. In addition, it adopts pure electric power, which can reduce the emission of polluting gas and waste heat, and realize the real "energy saving and emission reduction".
03. Electric car wash: quiet and efficient
The electric high-pressure cleaning vehicle has a larger capacity and a longer flushing time. It is suitable for road sections with a large flow of people, many shops and road pollution, reducing the frequency of vehicle watering and saving time. At the same time, the noise generated by the new energy cleaning vehicle is smaller, reducing the impact on the surrounding residents.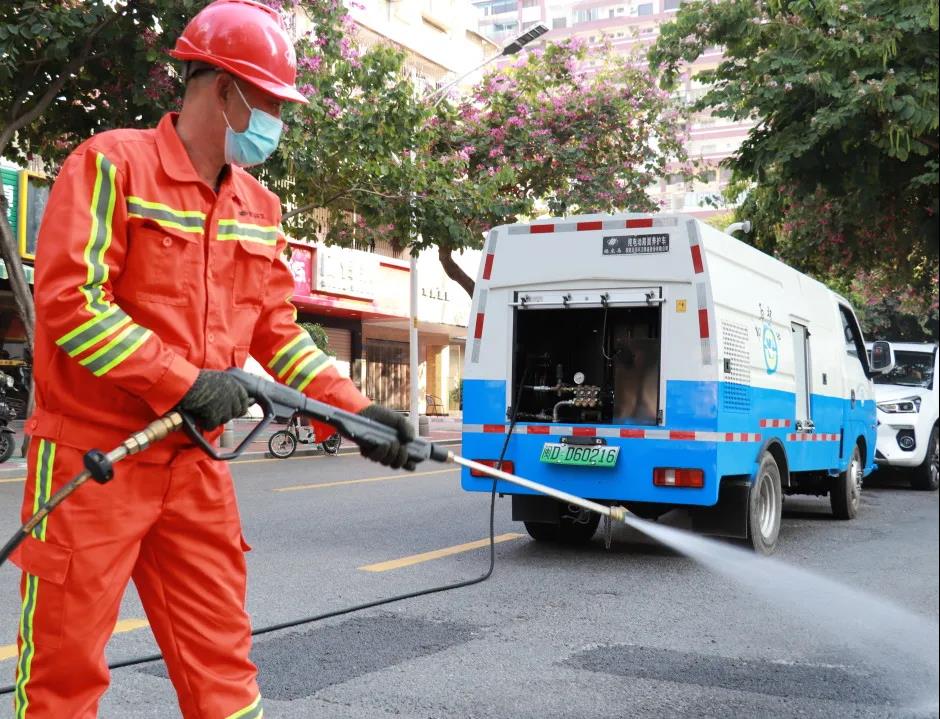 In addition, our company has also introduced pure electric three-wheel high-pressure cleaning vehicles, which are small in size and light in driving, and can penetrate into narrower markets and inside communities. The three-wheel cleaning vehicle has strong washing ability and agile action and can respond quickly and go to the operation site to further improve the operation efficiency.
04. Electric bucket truck: garbage transfer
In order to solve the problem of the large flow of people and a large amount of garbage in the jurisdiction, and at the same time improve the frequency and speed of garbage collection, transportation, and disposal, our company has introduced a batch of electric bucket trucks, which are distributed in areas such as markets with many shops and high traffic along the street; bucket trucks once It can collect and transport about 1,000 kilograms of garbage, which greatly improves the speed of garbage collection and transportation. In addition, the electric three-wheeled bucket truck is light, flexible, and has a fast response speed. It can be collected and transported along the street, ensuring that garbage is produced, cleaned, and transported.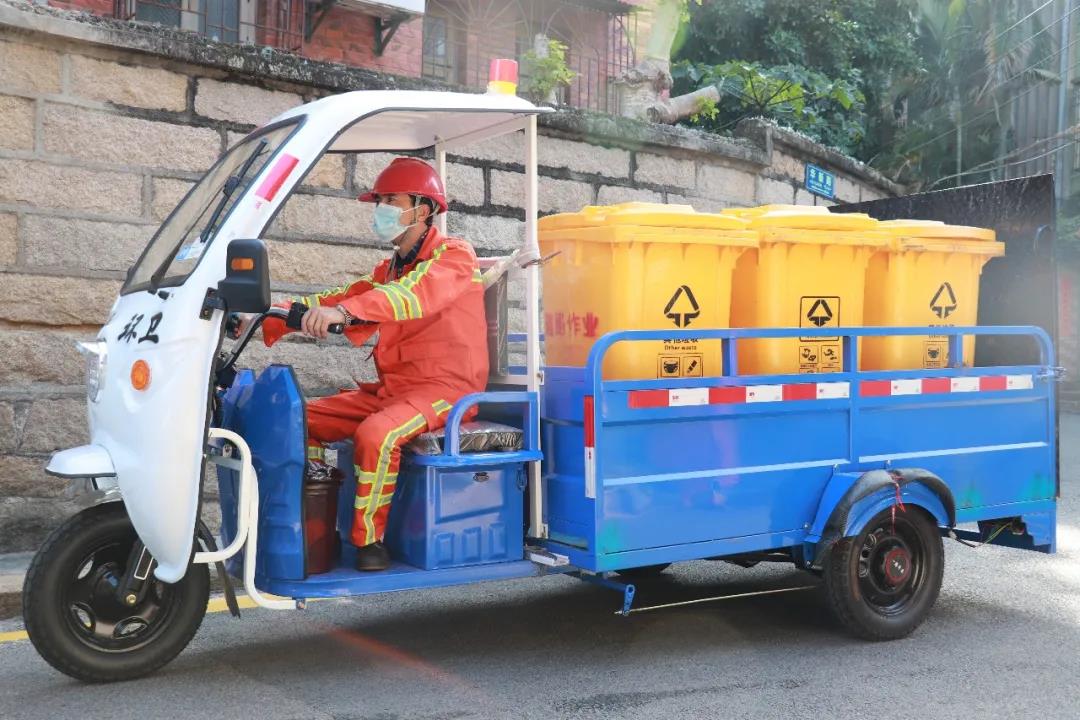 Sanitation vehicles are important public vehicles, and new energy vehicles are the general trend. In 2022, Xiamen Longhuan has introduced all kinds of new energy vehicles and put them into use.
In the next step, Xiamen Longhuan plans to introduce more new energy machinery to replace traditional fuel machinery on the basis of the stable trial operation and good effect of this batch of new energy machinery, starting from itself, doing a good job in energy conservation and emission reduction, and helping to achieve double carbon emissions Target.