FULONGMA sewage suction truck is suitable for suction of feces, sewage, sludge, and liquids mixed with small suspended debris. It is suitable for municipal sanitation, large, medium, and small industrial and mining enterprises, communities, schools, septic tank cleaning and transportation, and urban pipeline cleaning. Sewage suction trucks have made great contributions to the sanitation work of the city, such as dredging, cleaning of factory biogas slurry and biogas residue.
1. Picture of sewage suction truck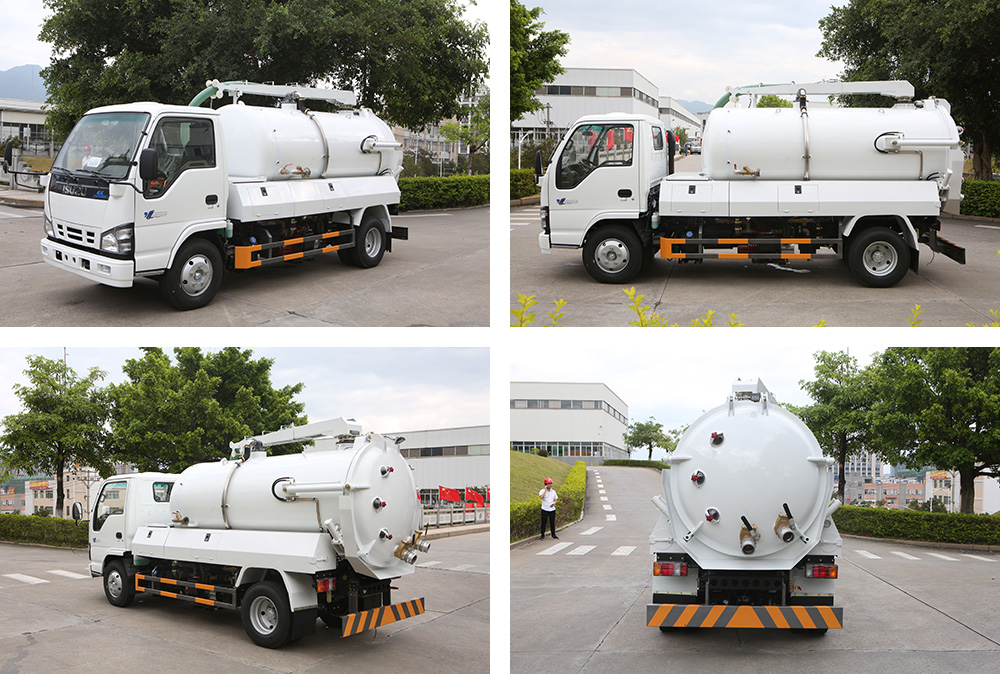 2. Product description of sewage suction truck
This product can be widely used to collect sludge, sewage, or petrochemical sewage pond sludge in urban rainwater wells, inspection wells, and various ditches, loading, transporting and discharging. The dirt in the tank can be dumped directly through the back cover, which can be used in large, medium, and small-town sanitation, municipal administration, agriculture, chemical industry, factories and mining enterprises, property communities, and other departments.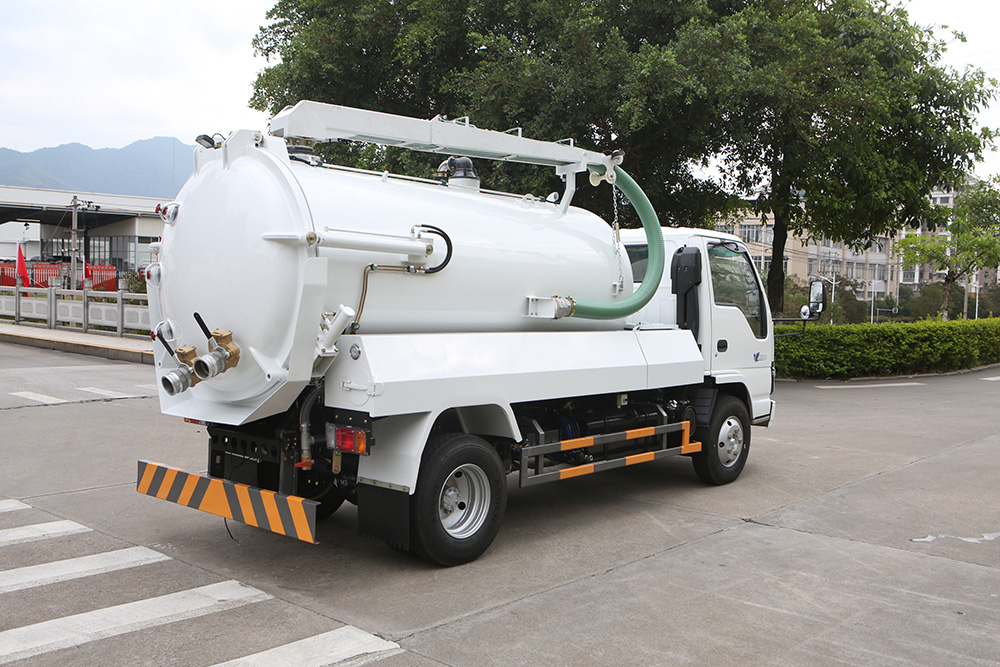 3. Features of sewage suction truck
Compact structure, uniform airflow, low noise, high vacuum, and can realize functions such as self-priming and self-draining.
The back cover is opened hydraulically, and the degree of automation is high.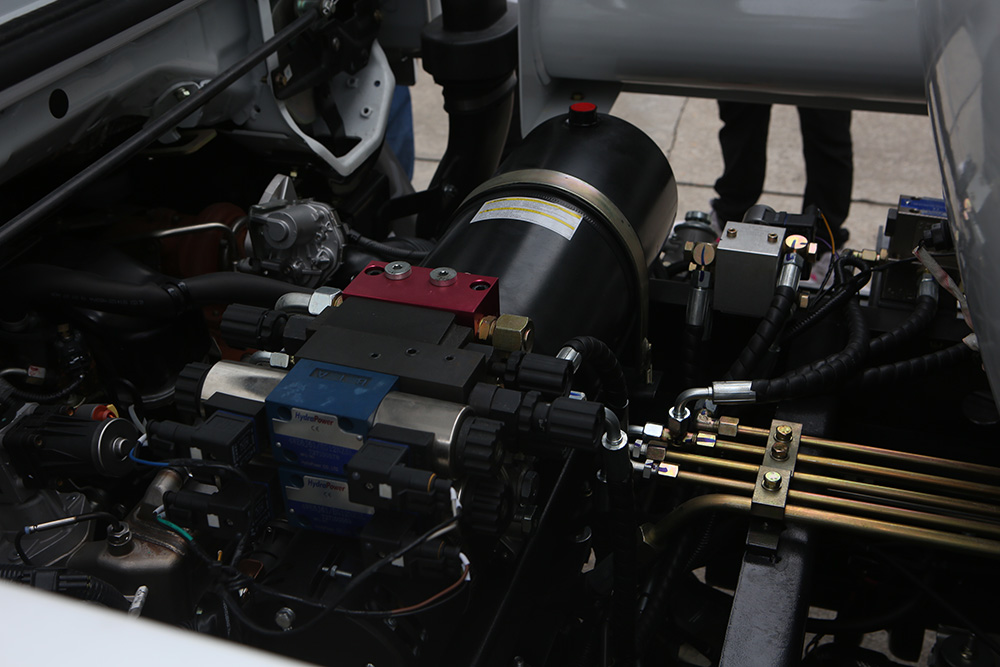 The mechanized operation can effectively reduce the labor intensity and danger of operators.
The sewage suction truck is full of power, and the super configuration can adapt to various harsh working environments with high work efficiency.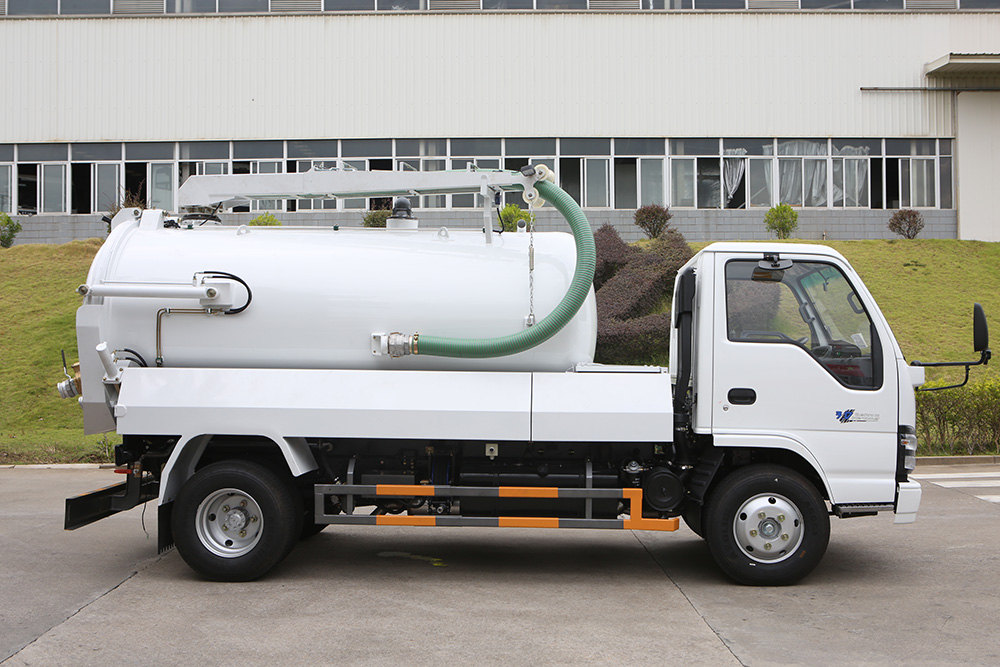 Complete functions, compact structure, and convenient maintenance. Strong dirt absorption capacity, safe and reliable, and good sealing performance.
The tank can be lifted hydraulically, and the sewage can be dumped more thoroughly. The back cover of the tank can be opened hydraulically, and the operation is simple and convenient.
4. Sewage tank of sewage suction truck
The car uses around Q235B tank (stainless steel tank is also optional), which has good pressure-bearing performance and integrates suction, transportation, unloading, and other functions in one. Small size, high flexibility, and equipped with night work lights, convenient for sanitation workers to work at night, can meet the needs of various working conditions, and play a huge role in various harsh environments such as floods.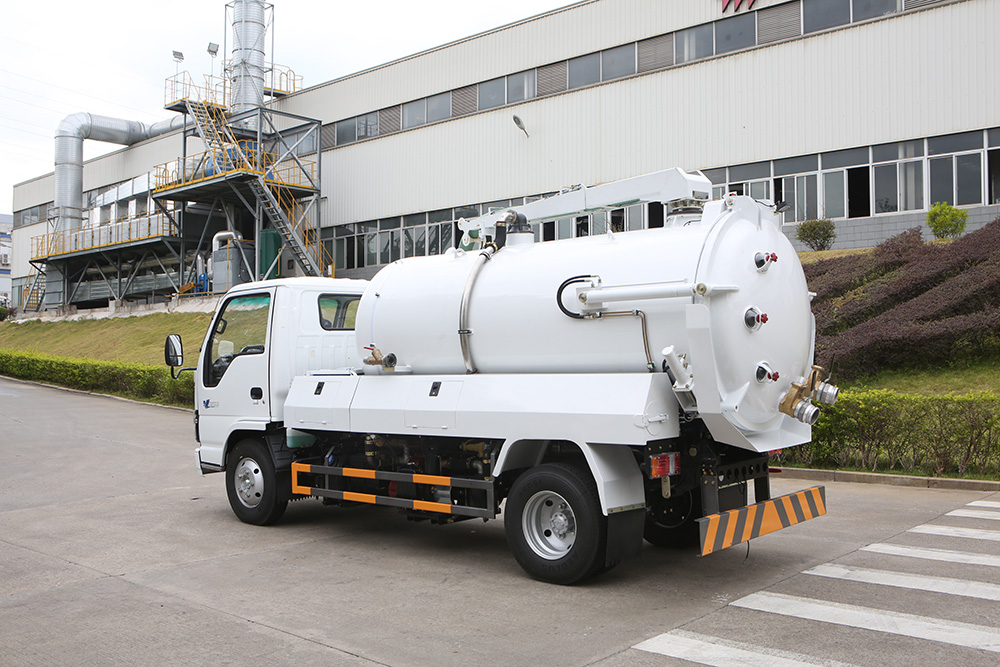 5. Sewage suction truck function
Self-priming and self-draining, fast working speed, large capacity, convenient transportation, suitable for collecting and transporting liquid substances such as feces, mud, crude oil, etc.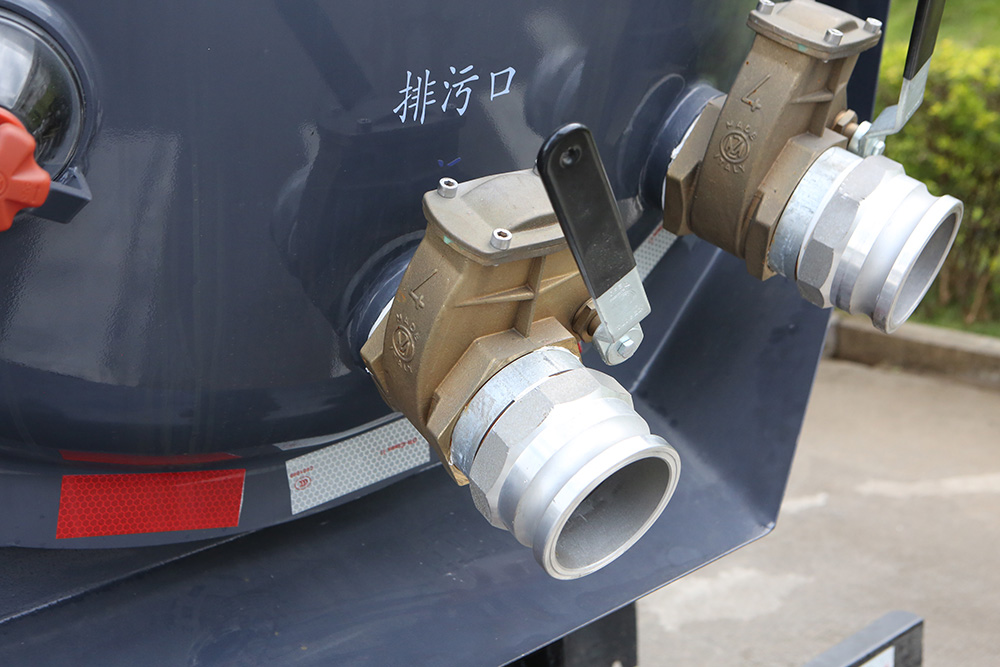 Adopting leading sewage suction truck vacuum pump technology, with large suction power and long suction range, it is especially suitable for the suction, shipment, and discharge of sludge in the sewer, especially for sucking sewage mud, silt, stones, bricks, etc. objects.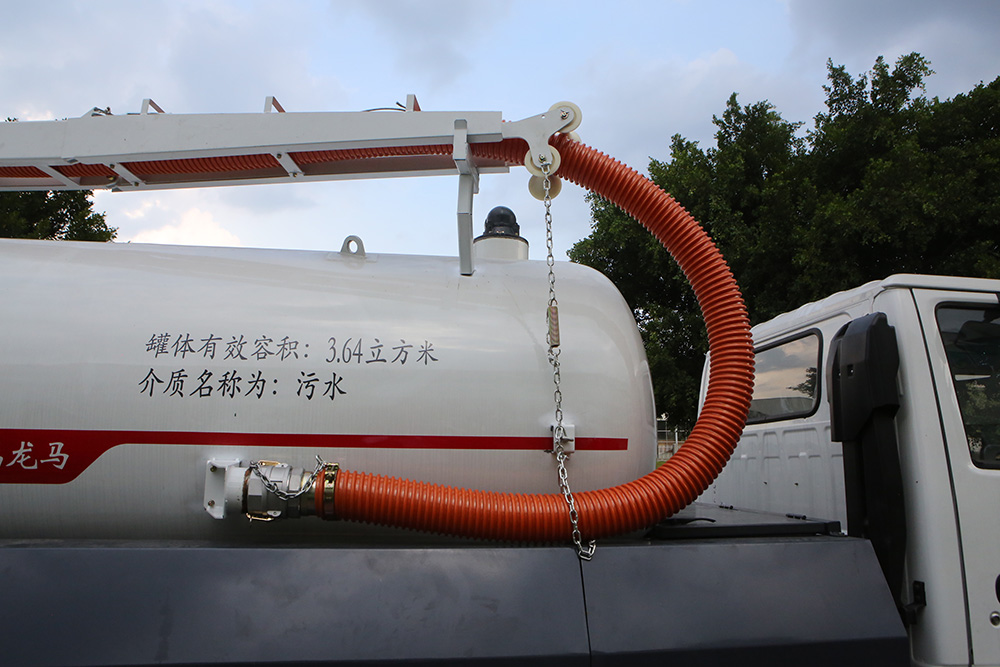 The transmission system of the working device adopts a modular design and is driven by a belt, which makes the operation more stable, the parts have a long service life, and the frequency of maintenance and replacement is low.
The rear door adopts an independent patented adjustable locking mechanism, a hydraulic system with safety protection, and a double insurance mechanism to reliably seal the trash box and the rear door rubber strip to ensure that the sewage and feces are in a sealed state during the collection and transportation process.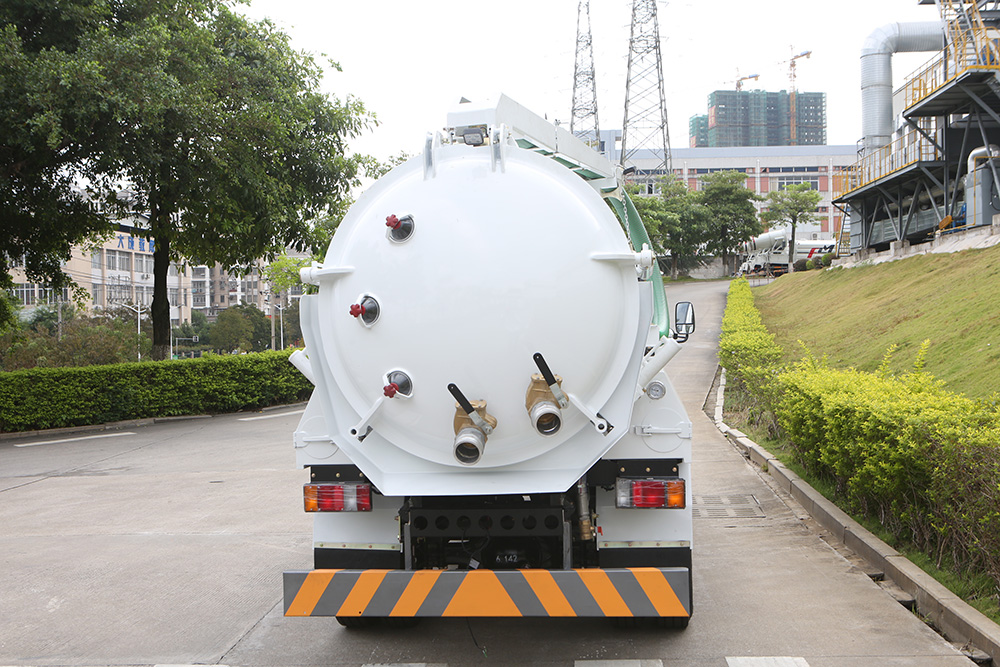 6. Composition structure of sewage suction truck
The dedicated part is composed of power take-off, driveshaft, vacuum sewage suction pump, pressure tank body, hydraulic part, pipe network system, vacuum pressure gauge, sight window, hand washing device, etc., equipped with a high-power vacuum sewage suction pump and high-quality Hydraulic system, the tank head can be formed by die-casting at one time, the tank can be opened behind, and the double tops are self-unloading. The dirt in the tank can be dumped directly through the back cover, and it has the characteristics of high vacuum (more suction than a fecal suction truck), large tonnage, high efficiency, and wider use.
07. Sewage suction truck video